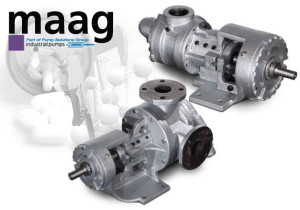 Maag, part of Dover Corporation's PSG, is a leading global provider of innovative, high-quality industrial gear pumps for the safe and efficient transfer of liquids. Maag is proud to offer the Maag G Series gear pumps. This durable, flexible and efficient positive displacement gear pump excels in challenging applications. It is reliable, durable and capable of overcoming your most difficult fluid-transfer needs. Engineered with the pump user in mind, G Series pumps are  ideally suited for applications requiring a pump that can move thin fluids as well as transferring very demanding viscous fluids. This series is known for its simplicity, with only two moving parts the pump series is simple to maintain. The G series base plate also provides excellent stability which greatly extends the life of the pump.
Features
Operates equally well in both directions and provides a positive, non-pulsating flow.
Easy to maintain.
User-friendly with a single adjustment end-clearance.
Enlarged bearing housing at the rear end of the pump that provides easy drive-end access to the shaft seal.
Single-point end-clearance adjustment.
The pump casing revolves to allow for multiple inlet and outlet positioning.
The G Series pump has a flexible design and can be customized to meet specific requirements.
Universally interchangeable.
1 1/2″ to 3″ NPT sizes
Construction
Cast iron or stainless steel
Ratings
Flows to 140 GPM
Pressures to 200 PSI
Temperature to 650°F
Viscosity to 431,000 cSt
As an added benefit, G Series Pumps and spare parts are designed to be direct replacements for Viking H, HL, K, KK, L, LQ, and LL internal gear pump models.
Processflo has pump professional's ready to answer your question's about any pump application. If the information provided above doesn't answer your question(s) then please don't hesitate to contact us at sales@processflo.com or call us at 800-854-0539 and we would be happy to help you.
Click here to view the G series Flyer or G Series Brochure
Visit PSG Dovers web site to learn more about G series
Click here to read Maag's article "Internal Gear Pumps Handle Harsh Conditions"
Click here to access Maag's Cross Reference Guide or Dimensional Drawings