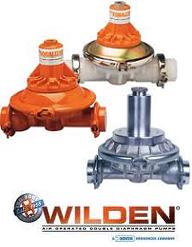 The Wilden line of SD surge dampeners effectively suppress pulsation associated with reciprocating pumps, prolonging equipment life and maximizing mean time between failure (MTBF). The dampener self-adjusts to fluctuating inlet pressures, making the installation flexible, versatile and user friendly for a variety of processes. These dampeners are engineered for demanding solids handling applications commonly found where reciprocating pumps excel.
Features
A dampener is an efficient tool to reduce water-hammer and protect in-line equipment.
They effectiveley dampen up to 70% of discharge pressure fluctuation.
SD Industrial Surge Dampeners use many existing Wilden pump parts to help in maintaining a minimum spare parts inventory.
Construction
Aluminum
Stainless steel
Nickel-plated aluminum
Ductile iron
Polypropylene
Kynar/PVDF
Glass-filled Polypropylene
Bladder Options
Buna-N
Viton
Saniflex
Wilflex (Santoprene)
Neoprene
Teflon/PTFE
Nordel/EPDM
Ratings
Pressure to 125 PSI (8.6 bar)
Temperatures ranging from -60°F to 350°F (-51.5°C to 176.7°C)
1/2″, 1″, 2″ and 3″ NPT/BSPT threaded connections available
2″ ANSI/DIN flanged connections available