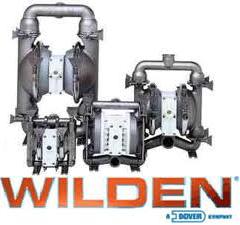 Wilden is a global leader in sanitary and bio-pharmaceutical pumps and offers a wide range of solutions for various food, beverage, dairy, personal care, pharmaceutical and bio-pharmaceutical applications. Wilden's premiere sanitary pump line has the versatility you require, safety you need and the capability of efficiently pumping a wide range of viscosities, solids and shear sensitive products.  Pumps are offered with passivated stainless steel components, available in multiple sizes and with various surface finishes. Wilden understands that safety, performance, hygienic requirements and the careful transfer of your products are essential when choosing process equipment.
Features
Engineered to meet FDA standards.
Self-priming.
Run-dry capable.
Ability to deadhead.
Shear sensitive.
Construction
316 stainless steel
Wide varety of FDA approved elastomers
Ratings
Flows to 243 GPM
Pressures to 125 PSI