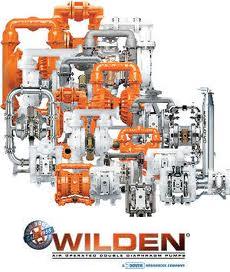 Since 1955 Wilden Pump – PSG Dover has been the market leader in air operated double diaphragm pumps. As a premiere organization, Wilden has the infrastructure, knowledge base, and intellectual capital to exceed customer expectations worldwide. Wilden pumps and accessories are employed in a host of difficult fluid transfer applications ranging from circulation duty in clean room environments to municipal sludge pumping. Wilden pumps are intrinsically safe by design, while offering a wide range of material and elastomer options, and giving you the optimum solution for your process.
Are you concerned about air efficiency?
Introducing the Wilden pump Pro-Flo SHIFT, finally an answer to your air efficiency needs. The Pro-Flo SHIFT uses a unique air control spool which restricts the air allowed into the pump at the end of each stroke. This system has been designed to address the need to increase savings. Instead of settling for the same old pump, finally you have a pump that meets your needs. Wilden's Pro-Flo SHIFT is available in various models and sizes to suit a wide variety of applications.
Wilden Pump Features
Variable flow and pressure.
Intrinsically safe by design.
Shear sensitive.
Large solids passage.
Self-priming.
Dry running without damage.
Deadhead capable.
Maximum Efficiency.
Proven Reliability.
Longest mean time between failure (MTBF).
Certifications for FDA, USDA & 3A, EHEDG and ATEX.
Up to 8″ solids-handling.
Ease of cleaning and inspecting.
Variety of materials available.
Low water requirements.
Wilden Pump Construction Materials Available
Aluminum
Cast Iron
316 Stainless Steel
Hastelloy C
Polypropylene
Polyethylene
Conductive Polyethylene
Kynar/PVDF
Wide variety of elastomer options available
Wilden Pump Ratings
Flows to 320 GPM
Pressures to 250 PSI
Temperatures to 350°F (176°C)
Please contact Processflo at 1-800-854-0539 or sales@processflo.com, as a result we will be able to answer any questions that you may have. Furthermore, If you would to read more about Wilden pump, we have listed a hyper link to their website below.
Visit Wilden's Website For More Information
View Suggested Accessories and Installation