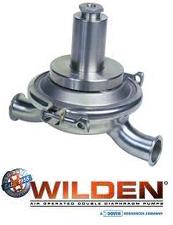 The Wilden line of HS surge dampeners effectively suppress pulsation associated with reciprocating pumps, prolonging equipment life and maximizing mean time between failure (MTBF) in hygienic applications. The dampener self adjusts to fluctuating inlet pressures making the installation flexible, versatile and user friendly for a variety of processes. These dampeners are engineered and designed for demanding solids handling applications commonly found in the sanitary and food industries.
Features
These dampeners possess the ability to handle up to 3″ (76mm) compressible solids.
They meet FDA, EHEDG and USP Class VI standards when configured with PTFE integral-piston diaphragms.
The HS dampeners also meet ATEX requirement and are ideal for use in explosive environments.
All product contact surfaces have an electro-polish finish of Ra 0.8 μm (32 μ-in) or better.
Construction
316 stainless steel wetted/non-wetted
Nickel-plated aluminum non-wetted option
Bladder Options
Buna
EPDM
Saniflex
Wilflex (Santoprene)
Teflon/PTFE with EPDM/Saniflex back-up
Teflon/PTFE-EPDM backed laminate integral piston diaphragm
Ratings
Pressures to 125 PSI (8.6 bar)
Temperatures ranging from -60°F to 280°F (-51.5°C to 137°C); 1-1/2″, 2″ and 3″ Tri-Clamp process connections