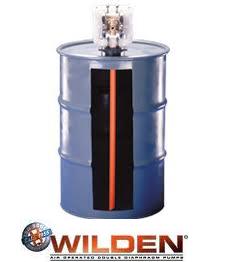 Wilden's universal drum pump kit is designed as a lightweight, portable means of adapting your 1/4″ or 1/2″ Wilden diaphragm pump to drum pumping applications. The kit offers cost-effective, efficient liquid transfer. The kit is available in a variety of materials for compatibility with virtually any fluid.  The drum pump adapter is available in a 2″ NPT male connections suitable for installation on most drums. The standard length of the pick-up tube is 36″ and can be cut to length to accommodate various drum sizes.
Wilden's Air Operated Double Diaphragm (AODD) Drum Pump Kits are offered in plastic versions including PVDF, Teflon, and Nylon. The Drum Pump Kits are available in clamped and bolted versions. We offer a chemical compatibility guide by clicking here if you would like to know if the liquid you need to transfer will fit the kit material options that Wilden offer. Processflo is proud to be an authorized distributor for Wilden Drum Pump Kits for the Mid Atlantic region including New Jersey (NJ), Pennsylvania (PA), New York (NY), and Delaware (DE).
Features
Used in conjunction with Wilden Pump Models P.025 and P1.
Run-dry capable.
Self-priming.
Wilden pumps employ no electric motor, seals, bearings or impellers, and are intrinsically safe by design.
Construction
Pick-up tube is available in Nylon, Polypropylene and Teflon/PTFE.
Ratings
Flows to 4.8 GPM
Pressures to 120 PSI
Processflo has pump professional's ready to answer your question's about any pump application. If the information provided above doesn't answer your question(s) then please don't hesitate to contact us at sales@processflo.com or call us at 800-854-0539 and we would be happy to help you.