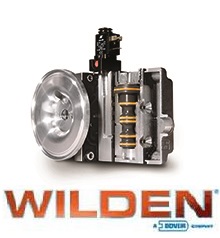 Since 1955 Wilden has been the market leader in air-operated double-diaphragm pumps. Wilden Accu-Flo Diaphragm pump and accessories are designed to be safe in a host of difficult fluid transfer applications ranging from circulation duty in cleanroom environments to municipal sludge pumping. Wilden Accuflo Pumps turn a double diaphragm positive displacement pump into a metering pump by regulating air flow by powering a solenoid valve to control the direction of the air flow going to the pump. The Accu-Flo Air Distribution System uses a two position, four-way solenoid valve to control the flow of air. If you would like to learn how the air distribution system uses the solenoid to control the air flow click on the link to see How It Works. Wilden pumps are intrinsically safe by design, offering a wide range of material and elastomer options. Neoprene and Buna are two of the elastomer options for general applications while Teflon and Wilflex are offered for transferring more volatile liquids. Please check Wildens chemical compatability guide by clicking here to see what material would suite your application.
Wilden Accu-Flo pumps allows you to meter an application with precision. This positive displacement pump grants you the ability to control how many stokes per minute to control the flow of your application. Processflo is proud to be an authorized distributor for Wilden Accuflo Series pumps for the Mid Atlantic region including New Jersey (NJ), Pennsylvania (PA), New York (NY), and Delaware (DE).
Features:
Perfect for batching applications
Reduced number of parts compared to other Wilden pumps
Variable flow and pressure.
Intrinsically safe by design.
Shear sensitive.
Self-priming.
Dry running without damage.
Deadhead capable.
Proven Reliability.
Variety of materials available.
Construction:
Available as NEMA 5, NEMA 7, or ATEX compliant
Aluminum
Alloy C
316 Stainless Steel
Polypropylnene
Kynar/PVDF
Wide variety of elastomer options available
Variety of voltage options
Ratings:
Flows to 45 gpm
Pressures to 125 PSI
Processflo has pump professional's ready to answer your question's about any pump application. If the information provided above doesn't answer your question(s) then please don't hesitate to contact us at sales@processflo.com or call us at 800-854-0539 and we will be happy to help you.
Visit Wilden's site by clicking here