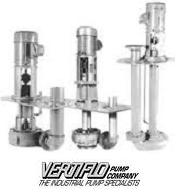 Vertiflo Pump Company was established in 1979 to design, sell and build packaged lift stations. Since 1981, Vertiflo has concentrated on manufacturing vertical process pumps, sump pumps, end suction pumps and self-priming pumps. The pumps are designed for nonresidential applications and currently over 20,000 are operating successfully worldwide. Vertiflo is recognized as a quality manufacturer of dependable pumps, and continues to grow and encompass new applications in the pump industry. All of the pumps in Vertiflo's range are delivered fast, usually in about half of the industry standard lead times.
Features
External impeller adjustment: locking jack screws provide impeller adjustment without dismantling pump or piping.
Heavy duty grease lubricated bearings available.
Cover plate designed per customer request (carbon steel standard/ alloy plates optional).
Semi-open impeller design with balancing ring and wiping vanes for a wide range of applications.
Vortex style pumps are available for greater solids handling capability.
Construction
Cast iron
Cast iron 316 stainless steel fitted
316 stainless steel
Alloy 20
Hastelloy/CD4MCu
Ratings
Flows to 3,000 GPM
Heads up to 230 feet
26 foot Maximum tank/pit depth
Temperatures to 400°F (204°C)