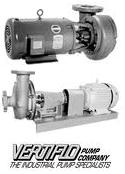 Vertiflo Pump Company was established in 1979 to design, sell and build packaged lift stations. Since 1981, Vertiflo has concentrated on manufacturing vertical process pumps, sump pumps, end suction pumps and self-priming pumps. The pumps are designed for nonresidential applications and currently, over 20,000 are operating successfully worldwide. Vertiflo is recognized as a quality manufacturer of dependable pumps, and continues to grow and encompass new applications in the pump industry. All of the pumps in Vertiflo's range are delivered fast, usually in about half of the industry standard lead times.
Features
Semi-open impeller design accommodates passage of solids and fine particles.
Impeller wiping vanes reduce axial load and prevent dirt from entering the seal area.
Highly efficient volute design.
All pumps are designed with a back pull-out feature.
Suction lifts to 25 feet on self-priming units.
Vortex style pumps are available for greater solids handling capability.
Construction
Cast iron
Cast iron bronze fitted
Cast iron 316 stainless steel fitted
All 316 stainless steel
Alloy 20
Hastelloy/CD4MCu
Ratings
Flows to 3,600 GPM
Heads up to 345 feet TDH
Temperatures to 250°F (121°C)