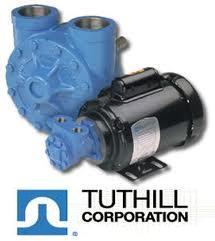 Tuthill Pump's internal gear, external gear, and circumferential piston positive displacement pumps are built on over 75 years of time-tested performance, flexible and innovative design, and gear pump engineering excellence. Their tough, reliable parts, diverse product lines, and a host of customization options make Tuthill Pumps the perfect choice for almost any application. From processing, to metering, to transferring, Tuthill has a pump that can meet your needs with quality that won't let you down.
Features
Internal gear pump designs.
Flexible mounting sealing and driving options.
Available with Tuthill's reversing feature.
Assembled with only two moving parts which allows the pumps to achieve and retain their reliability over a wider range in viscosity than alternative pump designs.
Construction
Ratings
Flows to 84 GPM
Pressures to 500 PSI
Temperatures to 475°F (246°C)