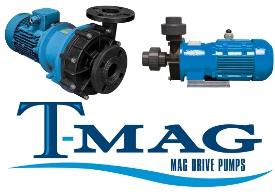 T-Mag Magnetic Drive Pumps is creating a storm of change within the process industry. The T-Mag magnetically driven pump surges ahead with the latest heat dissipation technology and horsepower ratings up to 5 HP. These pumps offer some of the highest flow rates seen in the industry. Ultimately, the T-Mag pump will bring you increased productivity, reduce operational costs & downtime, and provide peace of mind.
Features
Sealless, which means zero-emission, leak-free design.
Magnetically driven.
Run-dry capable.
Double end supported ceramic shafts.
Patented buffer system is specially designed to absorb vibrations and shock caused by adverse operating conditions.
Compact footprint.
NPT and Flanged connections available.
Construction
Polypropylene
Kynar/PVDF
ETFE
Ratings
Flows to 215 GPM
Pressures to 60 PSI
Temperatures from -148°F to 212°F (-100°C to 100°C)
Visit T-Mag's Website For More Information