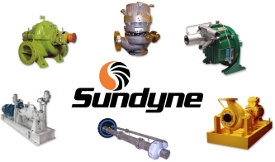 Sundyne family of pumps (Sundyne, HMD Kontro, Sunflo & Marelli) have been adopted by companies of all sizes who are looking to gain a competitive edge in their marketplace, from well recognized Fortune 500 brands to small regional operators. Recognized for the reliability and efficiency, Sundyne products represent a value-added solution for all manners of process industry application. Whether you require a custom engineered centrifugal pump or want to explore the operational benefits of sealless technology, the Sundyne portfolio has something to suit your workflow.
Features
API 610 & API 685 compliant.
High level of reliability.
High temperature & high suction pressure capability.
Horizontal, vertical, multistage, submersible and double volute designs.
High efficiencies.
Sealless pump technology.
Construction
316 stainless steel
Alloy 20
Hastelloy-C
Other exotic alloys available upon request
Ratings
Flows to 66,000 GPM
Heads to 4,920 feet TDH
Temperatures from -238°F to 842°F (-150°C to 450°C)
Visit Sundyne's Website For More Information