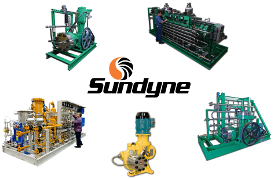 Sundyne PPI Sealless Reciprocating Diaphragm Compressors deliver non-contaminating compression of any gas. Their factory in the United States has been engineering and manufacturing leak free compressors for over sixty years designed to meet the highest industry standards for sealless positive displacement machines. For use in cylinder filling, fuel cell technology, or transfer of high purity or dangerous gases under pressure – without contamintaion or leakage. A variety of head closure designs, power-frames, accessories and materials of construction that accord Sundyne PPI to match a diaphragm compressor to most industry process parameters.
Features
Heavy duty components engineered to ensure reliable operation.
Rugged design.
Meets exacting API-618 standards for long and trouble-free operation.
Competitively priced.
Quick delivery times to keep your operation up and running.
Large, expansive service network.
Ratings
Displacements to 146.6 ft3/min
Pressures to 30,000 PSIG
Temperatures to 475°F
Visit Sundyne's Website For More Information