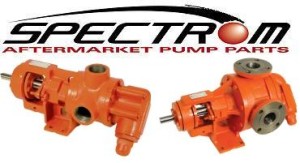 Spectrom Aftermarket Pumps & Parts specializes in designing, manufacturing and validating critical industrial pump components. Their goal is simple: reduce your costs while maximizing your mean time between failure (MTBF). If you do not find the pump components that you are searching for, please contact us as the product line is constantly evolving to meet the needs of industry. We look forward to earning your business with our pricing and then keeping it with solid performance and service.
Pumps
Part-for-part interchangeable pumps and parts for various Viking Pump models, with reliable performance, competitive pricing and superior lead-times.
Available in ductile iron and steel construction.