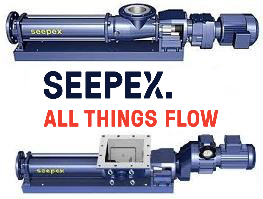 SEEPEX develops, manufactures and globally markets progressive cavity pumps for delivering low to highly-viscous, aggressive and abrasive media. For more than 30 years, SEEPEX has been offering customers in the chemical, food, pharmaceutical, personal care, paper, petroleum and gas, as well as the environmental engineering industry and numerous other industries, optimum economical problem solutions based on low life-cycle costs.
Features
SEEPEX 6L-Geometry (rotor and stator configuration) increases service life due to reduced sliding velocities and a longer sealing line, reduces thrust loads on universal joints and bearings, and improves efficiency.
Provides a streamlined flow through the pump reducing vibration, turbulence, shear rates and pulsations.
Plug-in shaft connection between the shaft seal and bearing assembly simplifies pump dissassembly and maintenance.
The robust and proven Universal Joint Design consists of just five easily replaced components.
Smart Stator Technology greatly reduces maintenance times to an unprecedented minimum.
Construction
Parts that come in contact with the product are available in cast iron, stainless steel, cast steel, rubber coated cast iron, Halar coated cast iron, Rilsan coated cast iron and RCH.
Rotating parts are available in material from hardened tool steel to Hastelloy C and Titanium.
Stators are available in a variety of elastomer materials from light to dark, such as NBR, EPDM, CSM, SI, HNBR, FPM and TFE/P.
Ratings
Flow rates to 2,200 GPM
Pressures to 720 PSI
Visit SEEPEX's Website For More Information
View Suggested Accessories and Installation