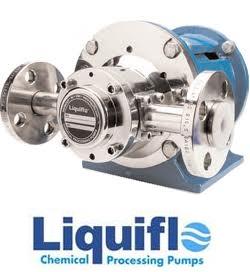 Since 1972, Liquiflo has manufactured high quality gear pumps, specifically designed to meet the demanding needs of the chemical industry. The Poly-Guard™ pump is offered with a wide selection of materials for its internal components. With Liquiflo's 35 years of experience in pumping extremely difficult chemicals, they can maximize the performance and reliability of the Poly-Guard™ for virtually any application.
Features
Liquiflo has long recognized the need for a plastic rotary positive displacement pump for the chemical industry.
While engineered plastics offer unsurpassed chemical resistance to virtually any fluid, they severely lack the mechanical strength, integrity and safety of high-alloy metals.
Therefore, the challenge was to use a combination of metal and plastic to produce a highly corrosion resistant pump that was safe to use in industrial applications.
The ultimate outcome was the Poly-Guard™, which combines the chemical resistance of a Fluoro-Polymer with the strength of stainless steel.
Construction
PFA-lined stainless steel housings
PFA-lined containment can
Wear parts available in PTFE, Ryton, PEEK, Kynar/PVDF, Silicon Carbide, Carbon 60, EPDM, Viton and Kalrez.
Ratings
Flows to 15 GPM
Pressures to 100 PSI;
Temperatures 200°F (93°C)