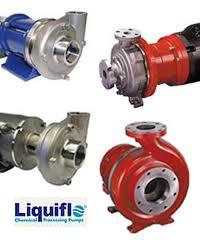 Since 1972, Liquiflo has manufactured high-quality ANSI and Sub-ANSI size centrifugal pumps, exclusively designed for chemical, agricultural, general industrial or specific OEM applications.  Compared to other manufacturer's products, the extra corrosion allowance offered by the Centry Series pump line, will add years of service life even when pumping harsh and corrosive chemicals. The Endura line of pumps are Group 1 & Group 2 ANSI dimensional, designed to meet the demanding needs of the chemical processing industry, and will also handle many other difficult pumping applications, including those which require dry-running, pumping solids as well as high-temperature demands.
Features
Run-dry capable.
Solids handling capability up to 40%.
Wide variety of sealing options and materials available, including sealless, magnetically driven.
Self-priming models available.
Back-pull out design to facilitate maintenance.
Construction
316 stainless steel
Alloy C
Ratings
Flows to 900 GPM
Heads to 400 feet TDH
Temperatures from -100°F to 600°F