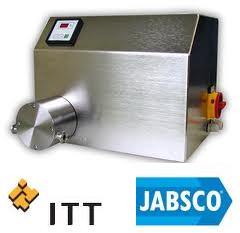 ITT Jabsco engineers and manufactures a wide range of positive displacement pumps, including rotary-lobe and flexible impeller designs, for the food, beverage, personal care and healthcare markets. Their latest rotary positive displacement pumps incorporate the very latest in hygienic design concepts in order to fulfill the ever increasing customer demands for improved cleanability, hygiene and sterilizability.
Features
Easy to clean.
No shaft seals.
Dry run and self priming capable.
Low noise.
Constant Flow.
Compact and small.
CIP (Clean In Place) and SIP (Steam In Place) capabilities.
Construction
316L stainless steel head with high surface finish
Santoprene diaphragm
EPDM/Buna valves and o-rings
Ratings
Flows to 6 GPM
Pressures to 87 PSI (6 bar)
Temperatures to 140°F (60°C in constant use), CIP up to 194°F (90°C) and SIP to 175°F (135°C) is possible