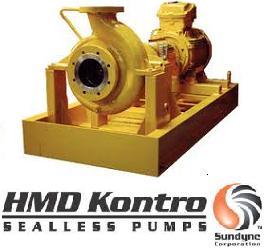 HMD Kontro is home of the sealless pump. As the first to develop and perfect the magnetic drive for pumping applications over sixty years ago, they have honed and perfected this expertise to provide a comprehensive range of pumps that all offer the significant benefit of zero leakage. With a magnetically driven, sealless pump, there is absolutely no danger of emissions or leaks. HMD Kontro pumps are particularly applicable to industries such as petroleum, chemical, gas, pharmaceutical and similar sectors where toxic or fine, corrosive or aggressive liquid needs to be pumped or moved. The sealless pump is particularly suited to environments that are hot or caustic, such as those in petrochemical refineries.
Features
Conforms to API 685 and ANSI/ASME B73.3 specifications.
Sealless design for total containment, minimized maintenance time and cost.
High efficiency wet end and magnetic couplings.
Single joint casing/containment shroud/shell to reduce potential leak paths.
Modular rotating element cartridge which provides the most efficient way to perform replacements and manage your spare parts inventory.
Non-metallic zero loss containment shell available.
Construction
316 Stainless steel standard
Alloy 20
Hastelloy C
Ratings
Flows to 3,647 GPM
Heads up to 1,146 feet differential
Temperatures from -112°F to 840°F (-80°C to 450°C)
System pressures to 2683 PSIG
Visit HMD Kontro's Website For More Information
View Suggested Accessories and Installation