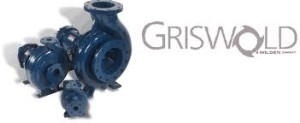 Griswold Pump Company is a well established full-line pump manufacturer, with its product lines dating back over 70 years. Griswold designs and manufactures a variety of pumps at their Grand Terrace, CA facility including ANSI end suction centrifugals, self-priming and submersible/vertical turbines. With hundreds of thousands of pump installations worldwide, Griswold serves a broad range of chemical process, industrial, municipal, and irrigation and recreational water applications.
Features
The Griswold 811 ANSI centrifugal pump was one of the first pump designs to comply with ANSI standards in the 1970's, and continues to meet or exceed all B73.1 requirements for chemical processing today.
Griswold maintains strict quality assurance programs to ensure that the entire product line is manufactured to the highest standard for engineered tolerances.
The 811 pump line and wearing parts interchange quickly & seamlessly with a variety of ANSI pump models and brands – without piping, baseplate or coupling changes … All at a significant cost savings!
Construction
Cast iron
Ductile iron
Stainless steel
Alloy 20
CD4M
Ratings
Flows to 4,000 gpm
Heads to 1,200 feet TDH
Temperatures to 400°F (204°)