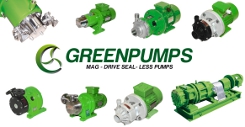 GreenPumps specializes in the design and application of sealless centrifugal and positive displacement pump for the water treatment, pharmaceutical, chemical, petrochemical and refinery markets. Everyday, they continue to lead the way providing the most reliable, sealless pump available with the latest technology. All GreenPumps are engineerd to comply with the latest environmental laws. Their mission is working toward future preservation of our environment through "zero emission" pumps.
Features
Sealless pumps with superior containment.
Regenerative Turbine units for Low Flow High Head applications.
Light and medium duty transfer pumps.
Centrifugal and Positive Displacement (oscillating piston & rotary vane) Pumps.
Low maintenance costs.
High MTBF; ATEX Certifications.
Construction
Polypropylene
PVDF/Kynar
316 Stainless Steel (electro-polish avail)
Incoloy
Cast Iron
Alloy 20
Hastelloy C
Duplex
Other materials upon request
Ratings
Flows to approx 650 GPM
Heads to 328 feet
Temperatures from -150°F to 600°F (-100°C to 315°C)
Visit GreenPumps' Website For More Information