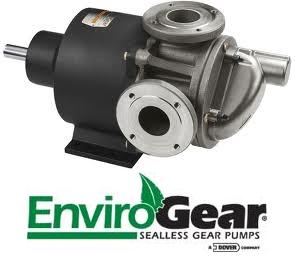 EnviroGear was founded and manufactured as a zero-leak pump for customer in the chemical, petrochemical and food processing markets. The pump is uniquely designed to enable customers to reduce operating costs and eliminate environmental costs for a more affordable up-front investment. To date, EnviroGear has had great success in various difficult applications.
Features
Magnetically driven.
Simple design with only seven primary parts.
Between-the-bearing support system.
One-fluid-chamber sealless design.
Dimensionally interchangeable with various other gear pumps, and side-ported casing available for interchangeability with select lobe pumps.
Integral relief valve optional.
Construction
Ductile iron
Carbon steel
Stainless steel
Viton, PTFE encapsulated Viton
PTFE encapsulated silicone
Kalrez o-ring options
Ratings
Flows to 200 GPM
Pressures to 200 PSIG
Temperatures from -40°F to 500° (-40°C to 260°C)
View EnviroGear's Website For More Information