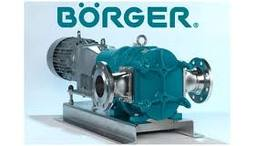 Boerger is the leading manufacturer of elastomer coated rotary lobe pumps. As diversified and individual each application is, as numerous is the variety of components and materials of construction of the pump design. Each pump incorporates a customized solution based on the teamwork between the customer and Boerger's engineering department. Rotor shapes and materials are chosen based on the pumped fluid characteristics. Because of the rotor varieties, Boerger pumps are a prime choice in the following industries: construction, mining, chemical, ceramic and oil, pulp and paper, wastewater, sludge and biosolids, marine, food processing, sugar and starch, soap, grease and oil mills, breweries, waste recycling, etc. "Boerger didn't invent the Rotary Lobe Pump, they made something special of it!"
Features
Maintenance In Place (MIP) allows the quick and convenient replacement of all fluid wetted parts without removal of piping, drives or other components of the pump by your own staff.
Patented rotor solutions with fast interchangeable rotor tips, coated rotors or readjustable lobes, screw shape design for pulsation-free operation.
Flow can be reversed by rotation direction change, suitable for loading/unloading applications.
Construction
Pump Casing: cast iron, wear and corrosion resistant
Hardened ductile cast iron
Stainless steel with high corrosion resistance.
Casing Liners: solid carbon steel, wear resistant; corrosion resistant stainless steel.
Rotors/Rotary Lobes: Buna
Buna-N
EPDM
FPM
CSM
PTFE
Solid stainless steel
Ratings
Flows to 5,300 GPM
Pressures to 170 PSI
View Boerger's Website For More Information