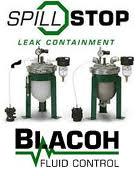 Blacoh Fluid Control is the industry standard for dampening the pulsation created by positive displacement pumps. They took their expertise and developed the Spill-Stop, a leak containment system used to prevent hazardous and costly spills due to failed diaphragms. The patented design captures leaked product while effectively shutting down failed pumps.
Features
Compatible with all air operated double-diaphragm pumps with discharge sizes from 1/4″ to 4″.
All pneumatic operation – no hazardous electronics or unreliable batteries.
Warning alarm and automatic back-up pump switchover options available.
Construction
Polypropylene
Kynar/PVDF
Kynar/PVDF and PTFe coatings available
316L stainless steel
Hastelloy C
Alloy 20