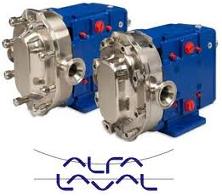 Alfa Laval has more than one hundred years of experience and expertise gained from customers in more than 100 countries all over the world. They are a world leader in innovation and design of groundbreaking sanitary process equipment addressing specific market demands and customer needs. Alfa Laval is your assurance of many years of trouble-free service with fast return on investment, and minimum operation and maintenance costs.
Features
The SCPP range of positive displacement pumps have been designed for use on a wide range of applications with the dairy, food, beverage, pharmaceutical and personal care markets.
The highly efficient design is particularly suited to applications that are low in viscosity with medium to high discharge pressures.
Optional internal flush ports and a flat body profile are available to allow for complete drainability and CIP (Clean In Place) service.
 Construction
Pumphead constructed of 316 stainless steel with internal surface finish of 32 Ra.
Single and twin-wing rotors constructed of non-galling alloy.
Cast iron powder-coated gear box is standard, with a stainless steel gear box optional on some models.
Ratings
Flows to 450 GPM
Pressures to 500 PSI (34 Bar)
Temperatures from -40°F to 300°F (-40°C to 150°C)
Visit Alfa Laval's Website to learn more about Rotary Lobe Pumps by clicking here