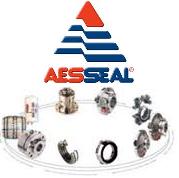 AES Seal is one of the major specialists in the design and manufacturing of mechanical seals and support systems. AES Seals are also mechanical seals that are used in pumps and rotating equipment to prevent liquids and gases from escaping into the environment. As a result of growth in excess of 20% per year, AES Seal has become the only major international new entrant to the mechanical seal industry in the last twenty years. Due to continued improvement of existing products and design excellence AES Seal is able to achieve superior product performance.
Types of AES Seals
AES Seal offers single seals, double seals, bellows seals, split seals, mixer seals, and standard plus seals to improve how you handle your process. The most noteworthy of AES Seals product lines are the CSS and CSSN single seal cartridges. One of the most noteable features of the CSS seals are a metal to metal pin drive which eliminates potential impact damage. Instead of telling you about all of the types of seals I will limit our discussion to the main two that Processflo deal with. The two main types of seals that Processflo deals with from AES Seal are single and double seals.
AES Seal offer the following types of single seals to help improve your process: single mechanical seals, single cartridge seals, high performance mechanical seals, process protecting seals, single cartridge seals with axial movement, and a cartridge seal that replace packing. The following type of double seals are available: cartridge mounted mechanical seal, high performance mechanical seal, double monolithic stationary flow / convection, double mechanical seal (CDP, CDPN, CDFI, and CDFC), heavy duty double slurry seal, and double stationary seal with pumping scroll.
AES Seal Features
Multi-spring design ensures accurate uniform seal face loading throughout the seal life.
Springs are placed out of the product media to eliminate clogging.
Robust setting clips guarantee correct working length and can be re-used for removal and fitting.
Hydraulically balanced seal face design ensures optimum fluid film during process fluctuations.
Captured o-ring design prevents extrusion under vacuum conditions.
AES Seal Materials of Construction Available
316L stainless steel
Tungsten Carbide
Silicon Carbide
Carbon
Ceramic
Viton
EPR
Kalrez
Aflas
Visit the AES Seals Web Site For More Information