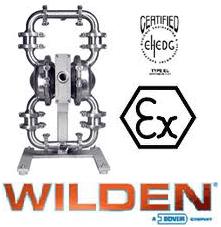 Wilden is a global leader in sanitary and bio-pharmaceutical pumps and offers a wide range of solutions for various food, beverage, dairy, personal care, bio-pharmaceutical and pharmaceutical applications. Wilden's premiere sanitary pump line has the versatility you require, safety you need and the capability of efficiently pumping a wide range of viscosities, solids and shear sensitive products.  Pumps are offered with passivated stainless steel components, available in multiple sizes and with various surface finishes. Wilden understands that safety, performance, hygienic requirements and the careful transfer of your products are essential when choosing process equipment.
The hygienic series line of pumps fit any process that requires the ability to clean the pumps with a very small amount of effort. Each pump is able to be turned upside down to allow any remaining fluid to be drained from the pump. This series of pumps were engineered to meet the highest standards of cleanliness meeting EHEDGE, CE, 3A, ATEX, USP Class VI, and FDA CFR 21.177 requirements. The pump design also allows anyone to easily inspect, disassemble, and clean. Wilden's Air Operated Double Diaphragm (AODD) Hygienic series are offered in 1″, 1  1/2″, 2″, and 3″ versions. We offer a chemical compatibility guide by clicking here if you would like to know if the liquid you need to transfer will fit the elastomer options and body options that Wilden offer.  See the Hygenic series pump and get an introduction to it by clicking here. Processflo is proud to be an authorized distributor for Wilden Hygenic Series pumps for the Mid Atlantic region including New Jersey (NJ), Pennsylvania (PA), New York (NY), and Delaware (DE).
Features
Engineered to meet the highest standards and requirements in the industry including: EHEDG, 3A, CE, ATEX, USP Class VI and FDA CFR 21.177.
Self-priming.
Run-dry capable.
Ability to deadhead.
Shear sensitive.
Superior product containment.
CIP (Clean In Place) and SIP (Steam In Place) capable.
Construction
316L stainless steel, with Ra 0.8 μm (32 μ-in)
Wide varety of FDA approved elastomers
Ratings
Flows to 243 GPM
Pressures to 125 PSI
Processflo has pump professional's ready to answer your question's about any pump application. If the information provided above doesn't answer your question(s) then please don't hesitate to contact us at sales@processflo.com or call us at 800-854-0539 and we would be happy to help you.