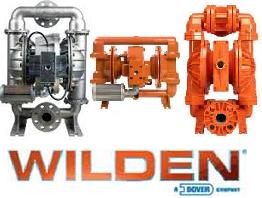 Since 1955 Wilden has been the market leader in air-operated double-diaphragm pumps. As a premiere organization, Wilden has the infrastructure, knowledge base, and intellectual capital to exceed customer expectations worldwide. Wilden pumps and accessories are employed in a host of difficult fluid transfer applications ranging from circulation duty in cleanroom environments to municipal sludge pumping. Wilden pumps are intrinsically safe by design, offering a wide range of material and elastomer options, giving you the optimum solution for your process.
The highly versatile high pressure pump is offered in Stainless Steel and Ductile Iron with DIN and ANSI connections. With the capability of passing solids up to 1/2″ at much higher pressures this pump is a must for any company that needs to pump products at higher pressures. We offer a chemical compatibility guide by clicking here if you would like to know if the liquid you need to transfer will fit the elastomer options and body options that Wilden offer. Processflo is proud to be an authorized distributor for Wilden Bolted Series pumps for the Mid Atlantic region including New Jersey (NJ), Pennsylvania (PA), New York (NY), and Delaware (DE).
Features
Variable flow and pressure.
Intrinsically safe by design.
Shear sensitive.
Large solids passage.
Self-priming.
Dry running without damage.
Deadhead capable.
Maximum Efficiency.
Proven Reliability.
Longest mean time between failure (MTBF).
Construction
Aluminum
Cast Iron
316 Stainless Steel
Ratings
2″ Pump Flows to 95 GPM at pressures to 250 PSI
1 1/2″ Pump Flows to 64 GPM at pressures up to 250 PSI
Deliver pressures up to 3200 PSI
Processflo has pump professional's ready to answer your question's about any pump application. If the information provided above doesn't answer your question(s) then please don't hesitate to contact us at sales@processflo.com or call us at 800-854-0539 and we would be happy to help you.