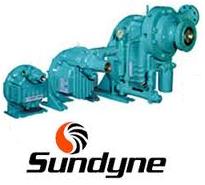 For over thirty years, Sundyne has been employing high rotational speed to ensure that Sunflo pumps have a clear advantage in providing multi-stage performance in a single-stage design. Sundyne is the leading supplier of fluid handling equipment with a reputation for innovation and reliability. Building on their aerospace technology origins, the Sundyne products of today are found in a wide range of industrial applications throughout the process industry.
Features
Patented inducers incorporate an axial flow design that lower NPSH (Net Positive Suction Head) requirements.
Small shaft overhang minimizes shaft loading compared to conventional centrifugal pumps, resulting in extended seal and bearing life.
Factory exchange program for its high-speed shaft assembly replacements. This convenient program allows you to send in your old shaft assembly and receive a return credit, providing significant cost savings.
Rebuilt units have the same quality construction, testing and factory warranty as new shaft assemblies.
Construction
Ratings
Flows to 500 GPM
Heads to 4,200 feet TDH
Temperatures from -50°F to 350°F (-46°C to 177°C)
Suction pressures to 350 PSIG
Horsepower to 400 HP
Visit Sunflo's Website For More Information