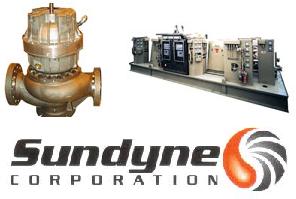 Sundyne Corporation designs and manufacturers reliable industrial pumps, compressors, motors and generators. With manufacturing and service facilities in the United States, England, France, Spain and Japan, Sundyne is well positioned to solve the challenges facing its global customers. Sundyne Compressor customers are among the who's who of the Fortune 500. Typically used throughout the gas processing, natural gas, offshore, refining, petrochemical, chemical, and power generation industries, Sundyne compressors are leading the way in value added, reliable specialty compressor services for the process industries.
Features
Typical applications include: vapor recovery, regeneration, recycle and booster.
Ease of maintenance.
High suction and working pressure capability.
Low flow centrifugal performance.
Compact designs.
API 617 conformant.
Single and multistage designs (up to 4 stages).
Exotic materials of construction.
Construction
Carbon steel/stainless steel castings
17-4ph/titanium impellers
Ratings
Flows to 10,000 ACFM
Maximum working pressures to 4,000 PSIA (350 Bar)
Temperatures from -200°F to 500°F (-130°C to 260°C)
Horsepowers up to 4,000 HP