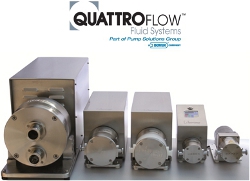 QuattroFlow Fluid Systems develops and manufactures specific biotech pumps for the critical application in the pharmaceutical and biotech industries. Whether in cross-flow systems, chromatography devices or centrifuges; the pump gently convey aqueous solutions and biological products sensitive to shear force ranging from blood to vaccines without denaturing them.
Features
Unique four diaphragm pumping system.
High volumetric efficiency.
Self priming.
FDA & USP Class VI elastomers.
Sealless design.
Single-use pump heads available.
Ease of maintenance.
Autoclave and sterilizable.
Extensive documentation package available.
Construction
Electropolished stainless steel pump head standard
Single-use polypropylene pump head option
FDA & USP Class VI EPDM/PP compound elastomers
Ratings
Flows from 1 L/H to 20,000 L/H
Pressures to 116 PSIG (8 bar) max
Temperatures to 266°F (130°C)
Visit QuattroFlow's Website For More Information