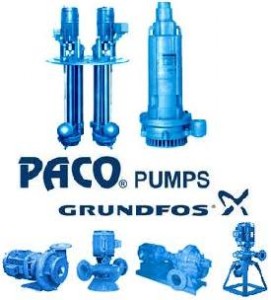 Since 1907, Paco Pumps has been servicing the needs for fluid movement through their commitment and focus on the pumping needs of users in all markets. The Paco line of pumps are the preferred centrifugal pump choice for many market applications. Extensive product offerings with broad performance ranges make product selection an easy task. They manufacture the world's most complete lines of end suction, in-line, split case, non-clog, sump pumps, special purpose pumps and pumping systems.
Features
Double volutes.
Broad band efficiency.
Large product offering.
Modular design for ease of maintenance.
Vertical mounting configurations.
Back pull-out designs.
Variety of sealing arrangements and materials.
Construction
Bronze
Cast iron
Ductile iron
Stainless steel
Ratings
Flows to 20,000 GPM
Heads to 790 feet
Temperatures to 300ºF
System pressures to 400 PSI
Visit Paco/Grundfos' Website For More Information