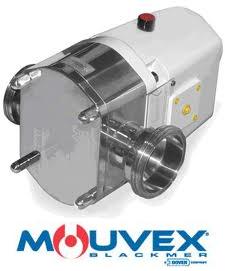 Mouvex was established in 1906, backed by inspiration to create a pump based on the eccentric movement principle. As it was expanding, Mouvex developed new skills and moved forward not only thanks to its products but, especially, thanks to the expertise and energy of its highly competent staff. Today, Mouvex is a global corporation with operation on all five continents, developing new products and conquering new markets to ensure the company's future throughout time to come.
Features
Suitable for CIP (Clean In Place) and SIP (Steam In Place).
Vertical or horizontal porting options.
High volumetric efficiency.
Robust design.
Variety of sealing materials and lobe designs.
Maintenance in place.
Low shear pumping.
Construction
316L stainless steel with 32 Ra/0.8 μm surface finish (0.4μm available)
Ratings
Flows to 339 GPM
Pressures to 174 PSI (12 bar)
Temperatures to 302°F (150°C)