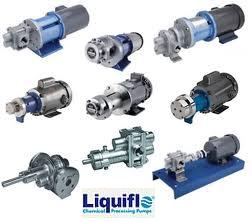 Since 1972, Liquiflo has manufactured high quality gear pumps, specifically designed to meet the demanding needs of the chemical industry. By offering a large selection of corrosion-resistant internal materials and multiple sealing options – such as mechanical seals and magnetic-drives – Liquiflo pumps are capable of pumping a wide range of chemicals including: acids, caustics, solvents and polymers over a wide range of conditions.
Features
Wide range of sealing options available including packing, single/double/external mechanical seals, and a magnetically-driven sealless option.
Simplify and minimize your spare parts inventory with Liquiflo repair kits, which contain all components necessary to completely rebuild you pump to like-new condition.
Ability to pump both low and high viscosity fluids.
Larger shaft diameters, bigger bearings and seals for extended service life.
Construction
Housings – 316 stainless steel
Alloy-C
Titanium
Wear Parts – 316 stainless steel
Teflon/PTFE
Alloy-C
Ryton
Carbon
PEEK
Ceramic
Silicon Carbide
Ratings
Flows from 0.01 GPM to 55 GPM
Pressures to 300 PSI
Temperatures from -40°F to 500°F (-40°C to 260°C)