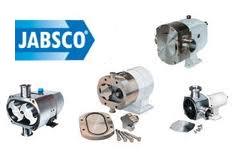 ITT Jabsco engineers and manufactures a wide range of positive displacement pumps, including rotary-lobe and flexible impeller designs, for the food, beverage, personal care and healthcare markets. Their latest rotary positive displacement pumps incorporate the very latest in hygenic design concepts in order to fulfill the ever increasing customer demands for improved cleanliness, hygiene and sterilization. The hygienic flexible impeller pump offering is designed to be cleaned in place or easily stripped clean, with the ability to handle low and high viscosity liquids and can pass soft suspended solids with minimal damage.
Features
High volumetric efficiency on low viscosity products.
Low shear rates.
Front loading seals are accessible without removing piping resulting in ease of repair and low maintenance costs.
Designs to meet 3A, EHEDG, FDA and USP Class VI standards.
CIP (Clean In Place) and SIP (Steam In Place) capable models.
Wide array of sealing methods and materials available.
Construction
316L stainless steel
Electro-polish finishes to 0.5 μm Ra (20 micro-inch Ra) available.
Ratings
Flows to 554 GPM
Pressures to 290 PSI (20 bar)
Temperatures from -40°F to 392ºF (-40ºC to 200ºC)
Visit Jabsco's Website For More Information