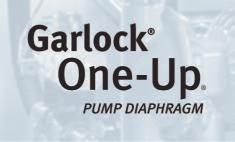 Garlock ONE-UP® pump diaphragms, with proprietary Teflon/PTFE on the wetted side, are a significant advancement over conventional Teflon/PTFE diaphragms. Considerably stonger, with greater flex life, they provide a dramatic improvement in service life. Garlock ONE-UP® diaphragms have been extensively field tested in a wide variety of industries including chemical processing, paint, solvent and detergent manufacturing, and wastewater treatment.
Features
Made from a proprietary 100% Teflon/PTFE, bonded to a variety of reinforced rubber backings.
Patented rib construction.
Chemically inert and temperature resistant.
Documented case histories show that the average service life of ONE-UP® diaphragms, is 3.5 times longer than that of conventional Teflon/PTFE diaphragms.
Temperature Ratings
Neoprene Backing ranges from 14°F to 200°F (-10°C to 93°C)
EPDM Backing ranges from 14°F to 280°F (-10°C to 137°C)
Viton Backing ranges from 32°F to 350°F (0°C to 176°C)
Visit Garlock's Website For More Information