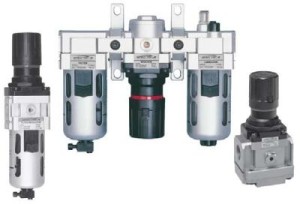 Filters, regulators & lubricators are used in many industrial air driven applications, including that of Air Operated Double Diaphragm Pumps. They are modular units and can be used independently, or combined in multiple configurations. These products can be used for any air operated piece of equipment.
Features
Filters come standard with 5 micron filter elements and a manual drain (automatic drain is available).
Regulators are diaphragm operated, relieving type and can regulate pressure between 7-140 PSIG (0.5-10 bar).
Lubricators have an adjustable oil delivery rate and increase the MTBF (Mean Time Between Failure) for air operated products requiring lubrication.
1/4″, 3/8″, 1/2″, 3/4″ & 1″ FNPT connections are available.