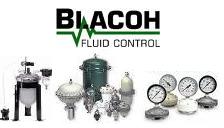 Blacoh fluid control is the industry standard for dampening the pulsation created by positive displacement pumps. They have been in business for over 30 years, providing smooth flows for pumping systems all over the world. Sentry pulsation dampeners, surge suppressors and inlet stabilizers remove hydraulic shock and vibration, enhancing all-around performance and reliability of fluid flow applications. Their goal is simple: to increase the productivity, safety, reliability and efficiency of fluid systems, while decreasing maintenance and operating costs.
In addition to the Sentry line of products, Blacoh's patented SpillStop Leak Containment System prevents costly and hazardous spills caused by pump diaphragm failure.
Blacoh's line of Sentinel Diaphragm Seals & Valves protect pumping systems and instrumentation while enhancing system performance.
View Blacoh's Website For More Information