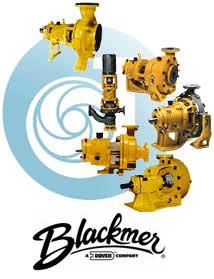 Blackmer System One (Formerly Chesterton Pump) is a medium-duty centrifugal pump designed for the toughest and most extreme environments. They are the industry standard for reliability as well as high-quality and durability.  They meet ASME/ANSI B73.1 dimensional specifications so every pump will fit as your pump solution.
Features
Lowest L3/D4 stiffness ratio of any competitive sized pump in the industry.
Solid shaft (no sleeve) with minimal overhang provides superior resistance to deflection and common vibration damage.
Oversized angular contact bearings are standard for high thrust capability. Dramatically reduces bearing, seal, and shaft failures.
Patented System One labyrinth seals provide non-wearing lifetime protection for radial and thrust bearings.
Pump can be centerline mounted for the ability to handle high temperature applications.
Vortex style pumps available for greater solids handling capability.
Quality power frame upgrades to most common ANSI pumps.
Construction
Ductile iron
316 stainless steel
CD-4
Alloy 20
Hastelloy C
Ratings
Flows to 1,500 GPM
Heads up to 750 feet TDH
Visit Blackmer's Website For More Information