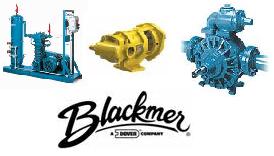 Blackmer sliding vane pumps was first established in 1903, and has been manufacturing rotary pumps since that time. The company offers the best combined characteristics of sustained high level performance, energy efficiency, trouble-free operation and low maintenance costs. Blackmer pumps are the preferred technology to transfer, transport and deliver petroleum products and liquified gases.
Blackmer also manufacturers the Abaque series peristaltic pumps, These pumps are rugged, industrial, self-priming hose pumps that can handle your toughest fluid transfer needs.
Blackmer's line of HD compressors, are heavy duty single and two-stage compressors combine advanced design technology and state-of-othe-art materials to give maximum performance with minimum maintenance.
View Blackmer's Website For More Information
View Suggested Accessories and Installation