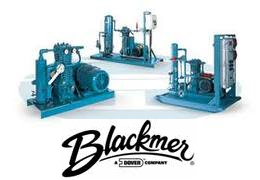 Blackmer was incorporated in 1903 and is the leading manufacturer of positive displacement pumps, centrifugal pumps and compressors for the transfer of liquid and gas products. Blackmer HD process compressors provide efficient and quiet delivery of oil-free gas or air. These heavy-duty single and two-stage compressors combine advanced design technology and state-of-the-art materials to give maximum performance with minimum maintenance. These compressors are well suited for handling a wide range of industrial gases, including propane, butane, propylene, vinyl chloride and chemical intermediates as well as many others, such as ammonia, carbon dioxide, refrigerants, air and nitrogen.
Features
The HD air-cooled models are suitable for most applications, especially for operation at lower compression ratios.
Liquid-cooled models are available for more demanding applications.
Single, double and triple seal models are available.
Construction
Ductile iron pressure parts
high efficiency PEEK valves
PTFE live loaded piston rod seals
Heavy duty ductile iron crankshaft
One-piece heavy duty steel piston
PTFE piston rings
O-ring seal available in: Buna-N, FKM, Neoprene, PTFE or Ethylene-Propylene
Ratings
Single-stage models are available in seven(7) sizes with piston displacements to 125 FCM (212 m3/hr) and working pressures to 1,000 PSIA (69 bar) for use on low to moderate compression ratio applications.
Three sizes of two-stage models are also available.