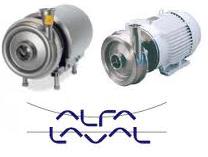 Alfa Laval has more than one hundred years of experience and expertise gained from customers in more than 100 countries all over the world. They are a world leader in innovation and design of groundbreaking sanitary process equipment addressing specific market demands and customer needs within the dairy, food, beverage, pharma and personal care markets. Alfa Laval is your assurance of many years of trouble-free service with fast return on investment, and minimum operation and maintenance costs.
Features
Hygienic design.
Easy maintenance at low costs.
CIP (Clean In Place) and SIP (Steam In Place) designs.
EHEDG, 3A, USDA, USP Class IV and CE certifications available.
Liquid ring pumps designed for pumping liquids containing air or gas.
High pressure and multi-stage designs available.
Low NPSH requirements.
Construction
316L stainless steel wetted construction
304 stainless steel adapters
Electrolpolish finishes ≤ 32 Ra available
Variety of sealing methods and materials to suit a wide range of applications
Ratings
Flows to 1,900 GPM
Pressures to 227 PSI
Temperatures from 14°F to 284°F (-10°C to 140°C)