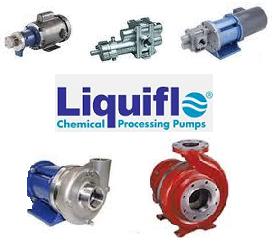 Since 1972, Liquiflo has manufactured high-quality gear and centrifugal pumps, specifically designed to meet the demanding needs of the chemical industry. By offering a large selection of corrosion-resistant internal materials and multiple sealing options – such as mechanical seals and magnetic-drives – Liquiflo pumps are capable of pumping a wide range of chemicals including: acids, caustics, solvents and polymers over a wide range of conditions.
Features
Liquiflo offers a large selelction of standard pumps, kits, parts, options and accessories, which are available for immediate delivery.
Liquiflo can customize pumps to meet your specific needs. Their experienced application engineers, customer service representatives and worldwide network of distributors are available to assist you with you special chemical pumping services.
Construction
316 stainless steel
Hastelloy
CD4MCU
Titanium
316 stainless steel/Tefzel lined
Wear parts available in a wide array of materials.
Ratings
Flows to 1,000 gpm
Pressures to 300 PSI
Temperatures to -40°F to 500°F (-40°C to 260°C)
Visit Liquiflo's Website For More Information
View Suggested Accessories and Installation