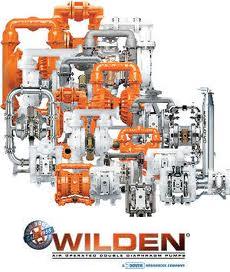 Since 1955 Wilden Pump – PSG Dover has been the market leader in air operated double diaphragm pumps. As a premiere organization, Wilden has the infrastructure, knowledge base, and intellectual capital to exceed customer expectations worldwide. Wilden pumps and accessories are employed in a host of difficult fluid transfer applications ranging from circulation duty in cleanroom environments to municipal sludge pumping. Wilden pumps are intrinsically safe by design, offering a wide range of material and elastomer options, giving you the optimum solution for your process.
Features
Variable flow and pressure.
Intrinsically safe by design.
Shear sensitive.
Large solids passage.
Self-priming.
Dry running without damage.
Deadhead capable.
Maximum Efficiency.
Proven Reliability.
Longest mean time between failure (MTBF).
Certifications for FDA, USDA & 3A, EHEDG and ATEX.
Up to 8″ solids-handling.
Ease of cleaning and inspecting.
Variety of materials available.
Low water requirements.
Construction
Aluminum
Cast Iron
316 Stainless Steel
Hastelloy C
Polypropylene
Polyethylene
Conductive Polyethylene
Kynar/PVDF
Wide variety of elastomer options available
Ratings
Flows to 320 GPM
Pressures to 250 PSI
Temperatures to 350°F (176°C)
Visit Wilden's Website For More Information